Background to Winston Churchill's last words
Sir Winston Leonard Spencer-Churchill was born into the family of the Dukes of Marlborough at Blenheim Palace in Woodstock, Oxfordshire in 1874, giving him prime position to become a prominent member of the British upper classes.
In WWII, his leadership and "we shall never surrender" oratory is widely credited with having a pivotal role in the allies' winning of the war. In addition to his statesmanship he was wide-ranging in his talents and interests and was awarded the Nobel Prize for Literature in 1953. He invariably tops the list in 'Greatest Britons' polls. However, the path to greatness wasn't as straightforward as the above account might suggest. He had a lifelong speech impediment and suffered with depression, which he named his 'black dog'. Despite a distinguished military career he wasn't well liked by his colleagues when he entered politics. He changed sides in his party allegiance more than once and was generally regarded as an unreliable maverick and upper-class waster.
It was his fierce criticism of Neville Chamberlain's appeasement of Hitler that brought Churchill back to the centre of British politics, after a period of isolation and virtual exile. His oratory and forceful personality gained him the position of Prime Minister when Chamberlain resigned in 1940.
From that point onward Churchill formed the reputation for which he is now best remembered. The allies won the war and he remained as Prime Minister until 1945. He regained that role again in 1951 and served until 1955.
Churchill died of a stroke in 1965, aged 90. His final words were "I'm bored with it all".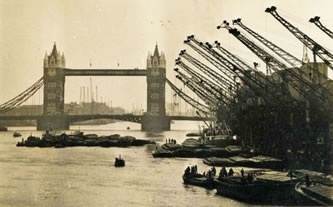 His position in the British national psyche is so significant that his story didn't end with his death. His funeral was also unique. His was the largest state funeral up until that time and tens of thousands of people attended with hundreds of thousands more watching on television worldwide. It is best remembered for the unexpected tribute paid by dock workers who lowered the jibs of cranes in respect as Churchill's coffin passed along the River Thames by barge.