135 Phrases coined by William Shakespeare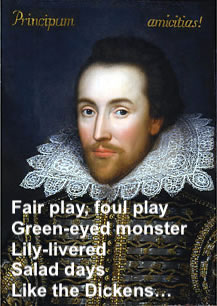 William Shakespeare invented more phrases and sayings than anyone else, and most of them are still used today.
He came up with most of them himself, but sometimes he borrowed good lines from others. A few of his most famous phrases were actually popularized by him, rather than invented by him.
Here's a list of well-known expressions that are associated with Shakespeare.
See also: A list of words coined by William Shakespeare
Full list of Shakespearian phrases:
Shakespeare's phrases grouped by play: