Background to George Best's final words
Best's final words are often reported as being 'I have no regrets' or similar. He said this in an interview towards the end of his life. Best was well-known as portraying his life as an enjoyable party, rather than as the 'genius brought down by drink' storyline that the newspapers preferred. He made many quips along these lines, notably "I spent a lot of money on booze, birds and fast cars. The rest I just squandered".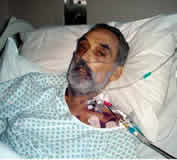 Evidently, even George came to see the tragedy of his early demise from liver failure. At the end of his life he recanted somewhat on the "No regrets" line and, at his request, the News of the World printed a picture of him in hospital on his deathbed, with the message "Don't die like me".