A little of what you fancy does you good
What's the meaning of the phrase 'A little of what you fancy does you good'?
A euphemistic way of expressing the benefits of sex.
What's the origin of the phrase 'A little of what you fancy does you good'?
This proverbial saying was first the title of a vaudeville song, made famous by the risqué Victorian singer Marie Lloyd. Lloyd was an immensely popular music hall performer in England towards the end of Queen Victoria's reign and into the early 20th century, much to the chagrin of the moralists of the day, who did everything they could to prevent her from performing. This included having her refused entry to the USA in 1913 for "moral turpitude".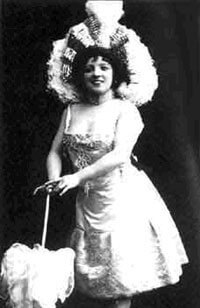 The songs she made popular were apparently fairly harmless but she managed to deliver even chaste material with a certain lewdness. The style she adopted was of a winking familiarity with the audience, all of whom were of course happy to play along with every double entendre.
The chorus of "A Little of What You Fancy Does You Good", goes:
I always hold in having it if you fancy it
If you fancy it that's understood
And suppose it makes you fat? I don't worry over that
'Cos a little of what you fancy does you good.
No one present at performances imagined that Lloyd was singing about cream cakes, although the line has in fact been used to advertise them in recent years. The sexual innuendo that was ever-present in the music hall has now largely been forgotten.
Marie Lloyd has been a continuing influence on British variety and comedy acts, being the template for artists like Max Miller and inspiration for the saucy euphemism of the Carry On film series. It is clear that Mae West ("I'm the kinda girl who works for Paramount by day, and Fox all night") also took inspiration from Lloyd's ("I sits amongst the cabbages and peas") manner of stage patter.
See also: the List of Proverbs.