New kid on the block
Meaning
A new arrival in an area or in a group of young friends.
Origin
Unsurprisingly, this phrase is of US origin. It is first seen there in the 1940s. The earliest citation I can find is in this 'Skippy' cartoon, by Percy Crosby, from The Lowell Sun And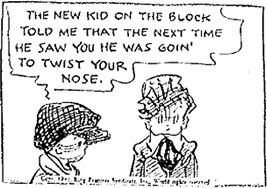 Citizen-Leader, December 1941.
See other phrases that were coined in the USA.