You can lead a horse to water, but you can't make it drink
Meaning
People, like horses, will only do what they have a mind to do.
Origin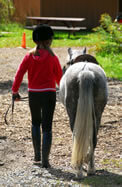 Proverbs give richness to language and, to some extent, define a culture. 'You can lead a horse to water, but you can't make it drink' might be thought to encapsulate the English-speaking people's mindset better than any other saying, as it appears to be the oldest English proverb that is still in regular use today. It was recorded as early as 1175 in Old English Homilies:
Hwa is thet mei thet hors wettrien the him self nule drinken
[who can give water to the horse that will not drink of its own accord?]
There are other pretenders to the throne of the oldest English proverb; for example:
A friend in need is a friend indeed.
(mid 11th century in English; 5th century BC in Greek)

When the blind lead the blind, both shall fall into the ditch.
(late 9th century in English; Bible, Luke Chapter 6)
Whilst the above were spoken in English earlier than 'lead a horse to water...', they derive from either a Greek or Biblical source and so can't claim to be the 'full English'. Either that or, like the 11th century proverb 'full cup, steady hand', they haven't stood the test of time.
The proverb 'lead a horse to water' has been in continuous use since the 12th century. John Heywood listed it in the influential glossary A Dialogue Conteinyng the Nomber in Effect of all the Prouerbes in the Englishe Tongue:
"A man maie well bring a horse to the water, But he can not make him drinke without he will."
It also appeared in literature over the centuries in a variety of forms; for example, in the play Narcissus, which was published in 1602, of unknown authorship, subtitled as A Twelfe Night merriment, played by youths of the parish at the College of Saint John the Baptist in Oxford:
Your parents have done what they coode,
They can but bringe horse to the water brinke,
But horse may choose whether that horse will drinke.
It wasn't until the 20th century that 'lead a horse to water...' got a substantial rewrite, when Dorothy Parker reworked it from its proverbial form into the epigram 'you can lead a horticulture, but you can't make her think'.
See also: the List of Proverbs.