Give a man a fish, and you feed him for a day; show him how to catch fish, and you feed him for a lifetime.
Meaning
A proverbial saying which suggests that the ability to work is of greater benefit than a one-off handout.
Origin
This proverb has fallen foul of the spurious etymological rule: 'if you don't know the origin of an enigmatic proverb, say it is ancient Chinese'. May you live in interesting times and a picture is worth a thousand words suffer the same fate. There's no evidence to link 'Give a man a fish...' with China. A further confusion over the origin is that the authoritative and generally trustworthy Oxford Dictionary of Quotations says it is of mid-20th century origin.
The expression actually originated in Britain in the mid 19th century.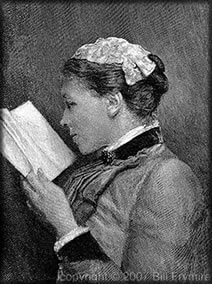 Anne Isabella Ritchie, the daughter of William Makepeace Thackeray, (who, if her photograph is any guide, was a studious young woman) wrote a story titled Mrs. Dymond, sometime in the 1880s and it includes this line.
"He certainly doesn't practise his precepts, but I suppose the patron meant that if you give a man a fish he is hungry again in an hour; if you teach him to catch a fish you do him a good turn."
The book was published in 1890 but the story was put into print a few years earlier. The American magazine Littell's Living Age printed the story in its September 1885 issue and it was taken from an earlier but undated issue of the British Macmillan's Magazine.
So, the proverb dates from 1885 or shortly before and there's every reason to suppose that it was coined by Anne Ritchie.
The source of the mid-20th century and Chinese origin theories are various US magazines from the 1960s, for example The Rotarian, June 1964:
...the Chinese axiom "Give a man a fish, and you have fed him once. Teach him how to fish and you have fed him for a lifetime."
Publications of that sort were what brought the proverb into general use but, as we have seen, weren't the actual source.