World Series
Posted by Bruce Kahl on March 12, 2004
In Reply to: World Series posted by Brian from Shawnee on March 11, 2004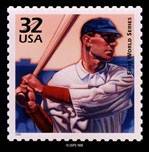 : : : : : : Why is it called the World Series when it's only in America?
: : : : : Well, technically since 1969 it's also covered Canada. In fact the Toronto Blue Jays are one of the few teams to have won the World Series in back-to-back years (1992 and 1993). Of course the first Series was played in 1903 when no teams existed west of St. Louis, so it really didn't even cover the enitre U.S.!
: : : : : A little arrogance goes a long way in marketing, you know. Who wants to go to the "Pretty Big Series"? Why not call it the "World Series"? Brilliant!
: : : : It gets that title from the original 'sponsor' - the now defunct newspaper The New York World.
: : : No, the New York World thing is an urban legend, according to Snopes.com. They say the legend started around 1991, and I had never heard it before today.
: : : The "modern" World Series dates from 1903 and has been played every year except two. In 1904 the New York Giants of the National League refused to play against the "bush-leaguers" and "contract-jumpers" of the new American League, and in 1994 the players went on strike in the middle of the season and the World Series was cancelled. Other series had been played in the 1880's by the champions of the National League against the champions of the American Association, and that series was sometimes called the World Series, but it's not included in World Series history.
: : We run a conker championship series up here in Yorkshire and are planning to rename it 'The Milky Conker Championship' in honour of our galactic aspirations - we dismissed the name 'The World Conker Championship' on the grounds that it was too parochial.
: Oh! So you're being sponsored by Milky Way candy bars!
From baseball-almanac.com
"Although the "Fall Classic" as we know it didn't begin until 1903, Major League Baseball had several versions of a post-season championship series before that. In 1884, the Providence Grays of the National League outplayed the New York Metropolitan Club of the American Association in a three game series for what was originally called "The Championship of the United States." Several newspapers penned the Grays as "World Champions" and the new title stuck. Over the next six years, different variations took place between the National League and American Association pennant-winners, ranging in length from six to fifteen games. The American Association folded unexpectedly after the 1891 season forcing a suspension of the series. The following year, the National League absorbed four of the American Association's former franchises and expanded to twelve teams in an effort to promote the growth of baseball and maintain the public's interest. They played a split season in which the first-half winner played the second-half winner for the league championship. Many fans did not support the new system and the split season was promptly dropped in 1893."
---